About Us
With over 40 years of experience in the window covering industry, U.S. Blinds sets itself apart from the competition through its impeccable customer service and in-depth product knowledge.
As a family owned business, we have embedded in all employees that the customer comes first.
Each and every customer at U.S. Blinds is treated as an individual and not a single second will be spared to ensure full customer satisfaction
U.S. Blinds will also be able to provide its customers with incredible pricing and product information.
A one stop source for all major brands, the loyalty we have with our manufactures allows us to ensure that the products will arrive on time, at an unbeatable price and with secure warranties.
U.S. Blinds will offer its customers not only valuable service but valuable products as well.
Contact us for free estimates, measurements, and consulting.
Glendale location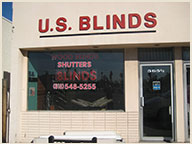 565 1/2 W Glenoaks Blvd,
Glendale, CA 91202
Tel: 818.548.5255
Fax: 818.548.0415